Warrantable vs. Non-Warrantable Condos
---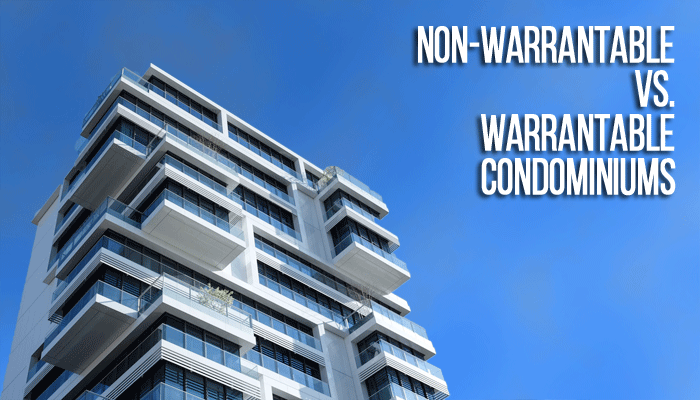 Warrantable vs. Non-Warrantable Condos
Are you contemplating buying a condominium in Texas? The first thing you will need to determine is whether you are buying a "warrantable" or "non-warrantable" condo. When a condo is identified as "warrantable"... that means it meets Fannie Mae's and Freddie Mac's conventional guidelines and Fannie Mae and Freddie Mac will buy the loan. Typically, a condominium is considered warrantable if, for instance:
· No single entity owns 10% or more of the units in a project. This applies even if that entity is the developer of the complex.
· Not more than 49% of the units are occupied under a lease agreement.
· At least 85% of the owners in the complex are paid current on the dues owed to the association.
· The HOA (homeowner's association) is not a named party to any current or pending litigation.
· Less than 25% of the building square footage is used for commercial purposes.
A non-warrantable condo is a condominium property in which the loan is not eligible to be sold to Freddie Mac or Fannie Mae, and as such, mortgage financing for this type of property is considered by most banks to be more "risky." Freddie Mac and Fannie Mae would consider a condo to be "non-warrantable" if, for instance, the condo:
· Is located in a development which is still under construction.
· The HOA Management Company allows for rentals of 1 day to 1 month in any of the units.
· One single person/entity owns 10% or more of all the units in the complex.
· Is in a complex where more than half of the occupants are renters
· Owner's association is currently a party to any lawsuit of any kind, whatsoever.
Some of the common property types which fall into the non-warrantable category include condo-hotels, time shares, fractional ownership properties, and other projects which require owners to join an organization, such as a golf club, yacht club, fishing club or hunting club.
Wesley Heath has experience working with residential mortgage lenders who specialize in providing residential mortgage loans for non-warrantable condos. Be sure your Realtor is an expert in understanding the differences between warrantable and non-warrantable condominiums before you hire them.